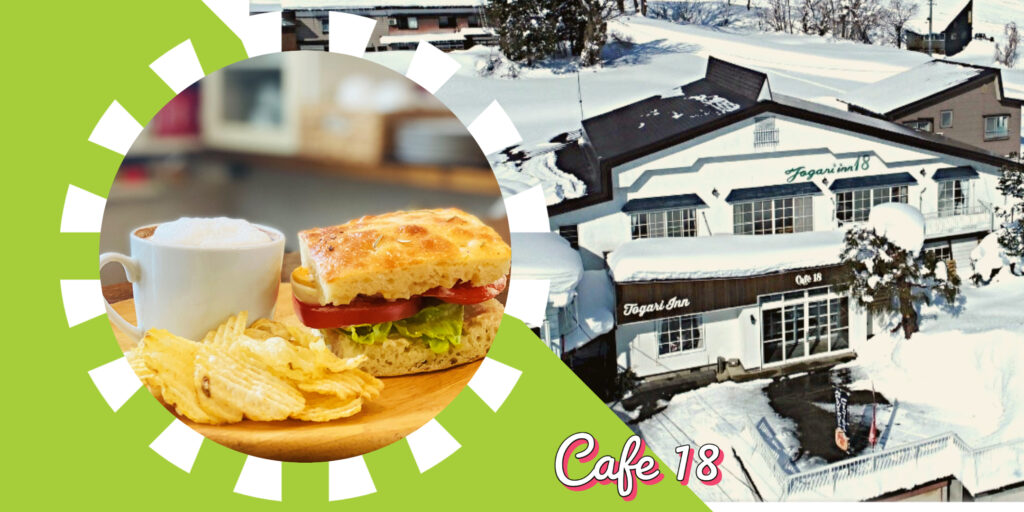 CAFE 18
Cafe 18, running since January 2022, is conveniently located at the base of Togari Onsen Ski resort. Whether you need a coffee before hitting the snow, a snack in the middle of the day or just to recharge your batteries after spending a full day on the slopes, we have what you need! A delicious sandwich is waiting for you. Relax and savor a variety of focaccia and hot sandwiches, as well as Cornish pasties and apple pies.
On sunny spring days come and enjoy the view from our beer terrace!
✅ Vegetarian and vegan-friendly.
🌐 The perfect match: Snow & Sandwiches! – MTN Holidays (togari-nozawa.com)
🕥 OPEN Sat, Sun 9:00 – 17:00 (winter season only)
📞 0269-65-2082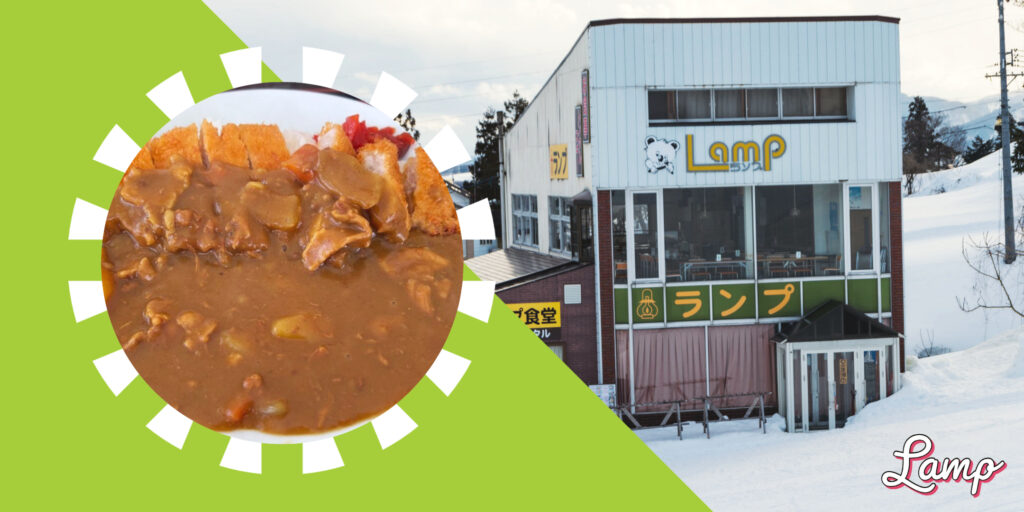 ランプ食堂 LAMP
Located at the base of Togari ski resort and with restaurant space on two-floors, Lamp is a good option for a quick break while skiing. Serving classic Japanese dishes, with low prices and ample portions. Our top recommendation is the katsu curry or katsudon, both made from local "Miyuki " pork.
🕥 OPEN 09:00 – 16:30 (winter season only)
📞 0269-65-2177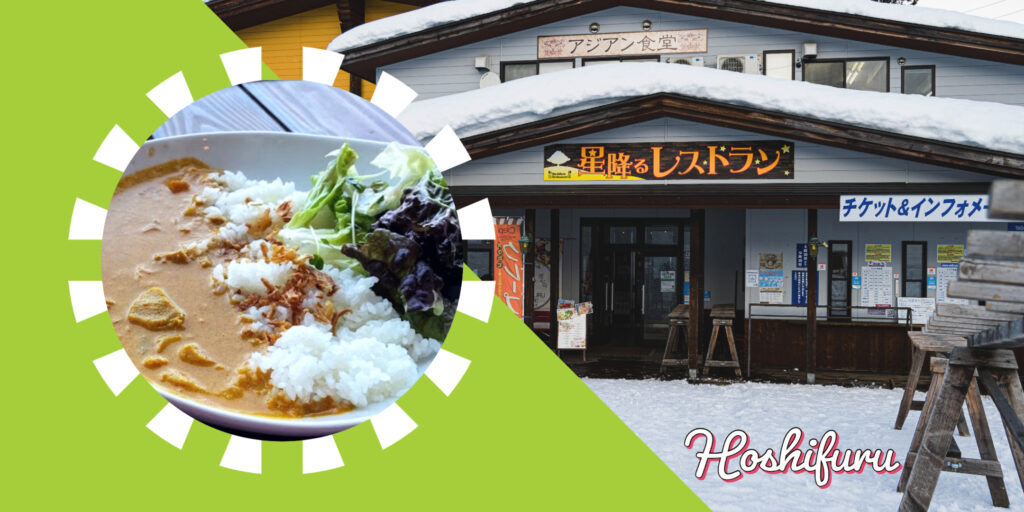 星降るレストラン HOSHIFURU
With a great location just next to the lifts, Hoshifuru is really popular during the ski season. Recently redesigned in 2021, the menu includes curry asian specialties such as pho, fried spring rolls and ga pao rice. Beach resort meets snow resort! If you're looking for something sweet, you have to try the crepes! There are so many toppings to choose from.
🕥 OPEN 09:00 – 16:30 (winter season only)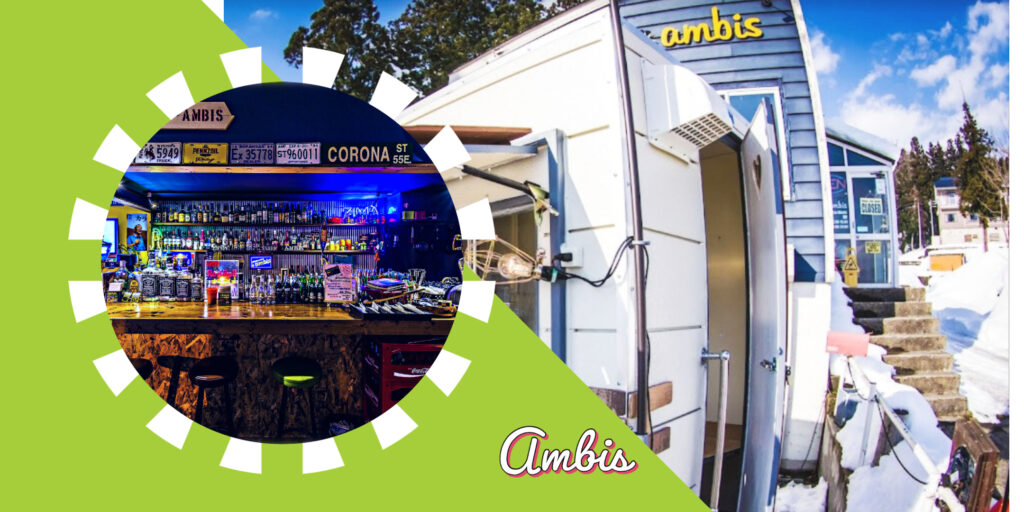 AMBIS CAFE & BAR & MUSIC
If you're looking for a night out to get some drinks , Ambis is the perfect place, with an American style. The bar often hosts live events with DJs and live bands.
Enjoy lunch in the afternoon, or a drink with a snack at night time. Ambis offers you a fun atmosphere, good music and most importantly, great company from locals and visitors.
🌐戸狩温泉スキー場 cafe bar music ambis (togari-ambis.com)
🕥 OPEN 11:00 – 14:00, 19:00 – 00:00
📞 0501-49-22910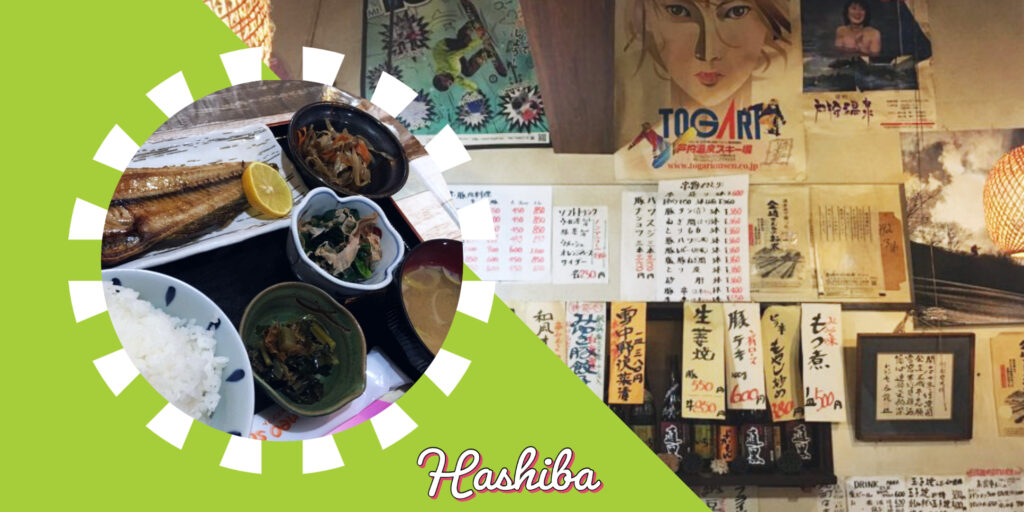 YAKITORI HASHIBA やきとりはしば
Loved by locals, Hashiba is more than a yakitori restaurant. It has that kind of unique retro atmosphere you only find in Japan, and the menu is actually huge, not just yakitori! You can choose from teishoku (a japanese set meal), ramen, karaage, cheese gyoza and more.
Or just enjoy small side dishes to match with your favorite drink.
🥡 Take out available
💰 Cash only
🕥 OPEN 11:00- 14:00, 16:00-22:00
📞 0269-65-2666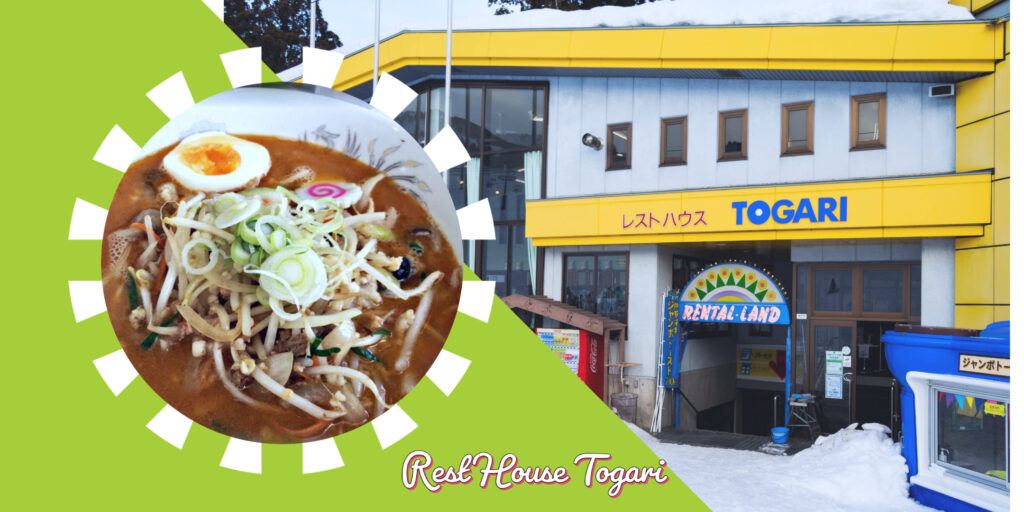 レストハウスとがり REST HOUSE TOGARI
Resthouse Togari is the closest restaurant to the ski lift. If you want to grab a quick meal before going up the mountain or taking a break, this is the place. You can find a wide variety of Japanese dishes here.
A must-try is the Togari ramen, get a seat next to the window to enjoy the view of the slopes.
🕥 OPEN 09:00 – 16:30 (winter season only)
📞 0269-65-3164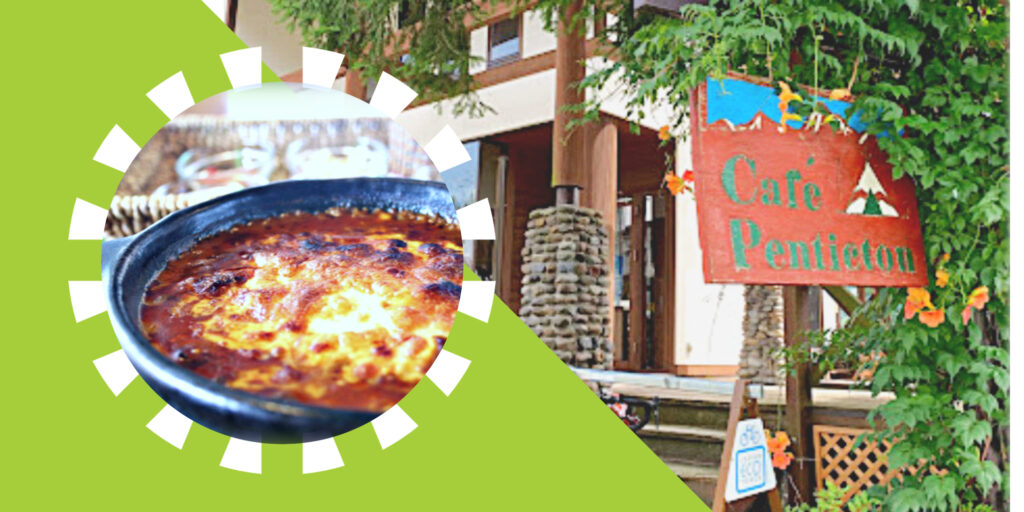 CAFE PENTICTON ペンティクトン
This is the best curry restaurant in Togari! Fresh and local, from the rice to the meat, all the ingredients are from Iiyama and they even grow most of the vegetables they use in the garden next to the restaurant.
You have to try the "Yaki-curry", the house's original recipe, made with more than 20 kinds of spices, baked with egg and melted cheese creating a perfect mix of flavors to nourish your soul.
Curry is love!
✅ Ask to the staff for vegetarian option
🥡 Take out available
🌐 https://www.penti.jp
🕥 OPEN 11:30 -14:30, 17:30 – 20:00 Sat, Sun, Holiday 11:30-15:00, 17:30 -20:00
🎿 Ski season 11: 00~21:00 CLOSED Weekday 14:30-17:30
📞 0269-65-4611
3匹のアヒル 3 DUCKS RESTAURANT
3 Ducks (San-biki Ahiru) is a European style restaurant that offers a variety of dishes from french food, to pizza, with a cozy atmosphere and reasonably priced drinks.
Open late, it's a great place to chill with friends or chat with the friendly proprietress.
🕥 OPEN 19:00 – END
📞 090-5496-0902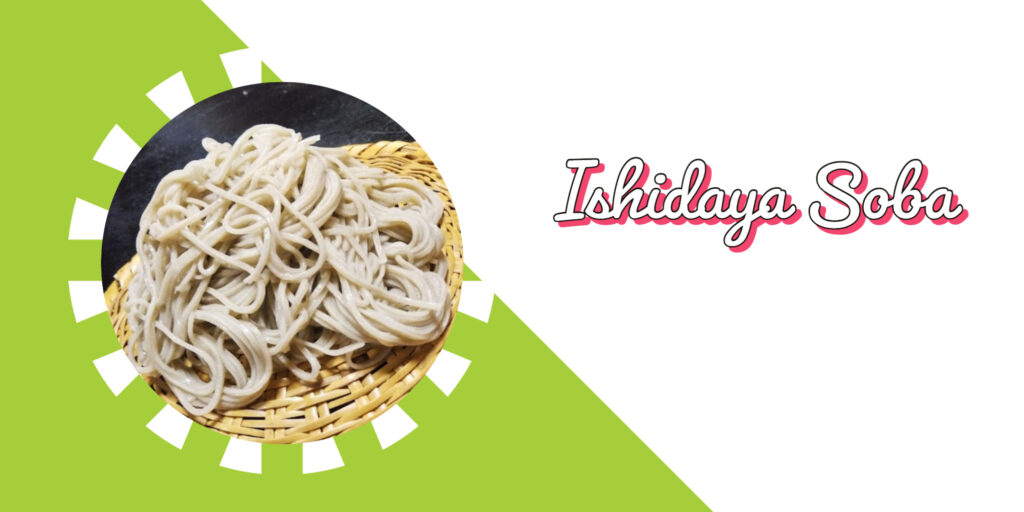 そば処 石田屋一徹 ISHIDAYA SOBA RESTAURANT
If you want to eat soba, Ishidaya is the place you have to go! Ishidaya is the best soba restaurant in Togari! They grow buckwheat at their farm and the soba is hand made in front of you! It is the most delicious and fresh soba you can get. The soba served in Ishidaya is a special type of soba called "Bokuchi Soba" which is particular to Iiyama, and has a unique aroma and texture. Highly recommended!
The set menu comes with a variety of tsukemono (pickles) and tempura (vegetables according to the season), or beef steak.
🌐 http://www.ishidaya.co.jp/soba
🕥 OPEN 19:00 – END
📞 090-5496-0902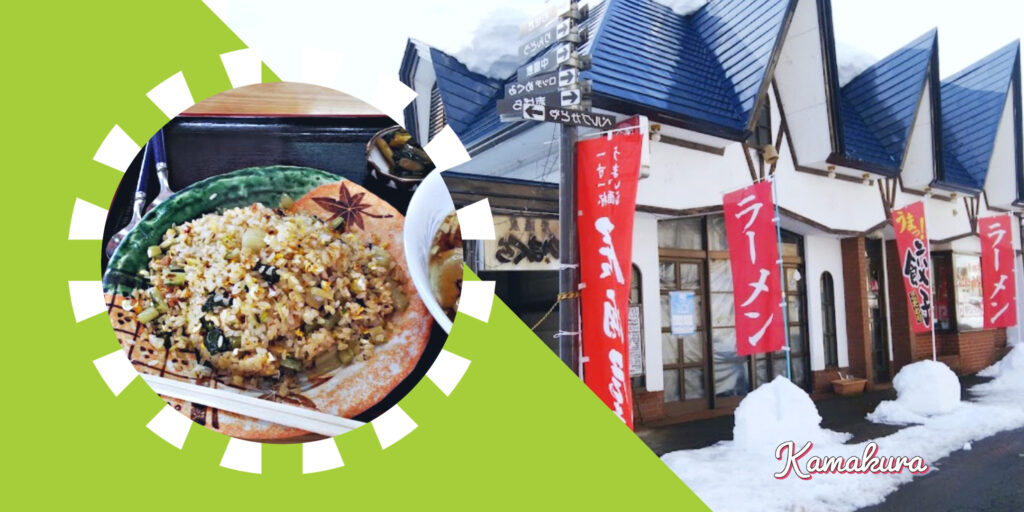 居酒屋かまくら KAMAKURA
Kamakura is open only in the winter season, run as a family restaurant during the day and izakaya (Japanese-style pub) at night. The menu has many options at a fair price and good proportions, popular dishes are Nozawana fried rice, and ramen.
You can enjoy a local friendly atmosphere especially during the night, give it a try!
🕥 OPEN 11:00 – 23:00 (winter season only)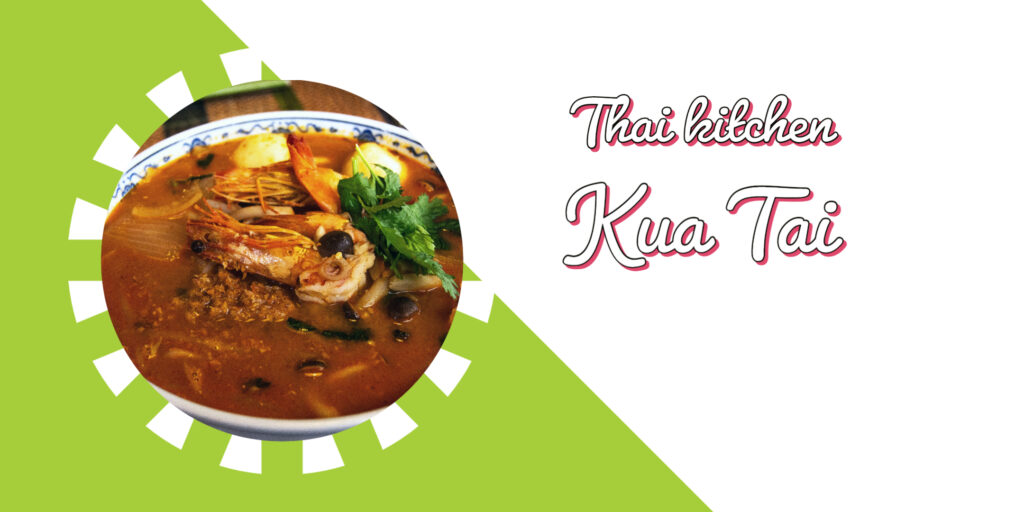 THAI KITCHEN クアタイ
Thai Kitchen Kua Thai offers you a truly authentic delicious Thai meal using original spices, local products and vegetables from their garden. We love the Khao soi, creamy and spicy noodles complemented with sour nozawana pickles, and for a side dish, boiled and deep-fried eggs with tamarind sauce – a delicious mouth-cooling foil to the spicy food.
To drink, there's Thai beer and plenty of fruity, sweet, sparkling Thai drinks.
🥡 Take out available
💰 Cash and Card
🕥 OPEN 11:00- 14:30, 18:00-21:00 CLOSED Thursday
📞 0269-62-1887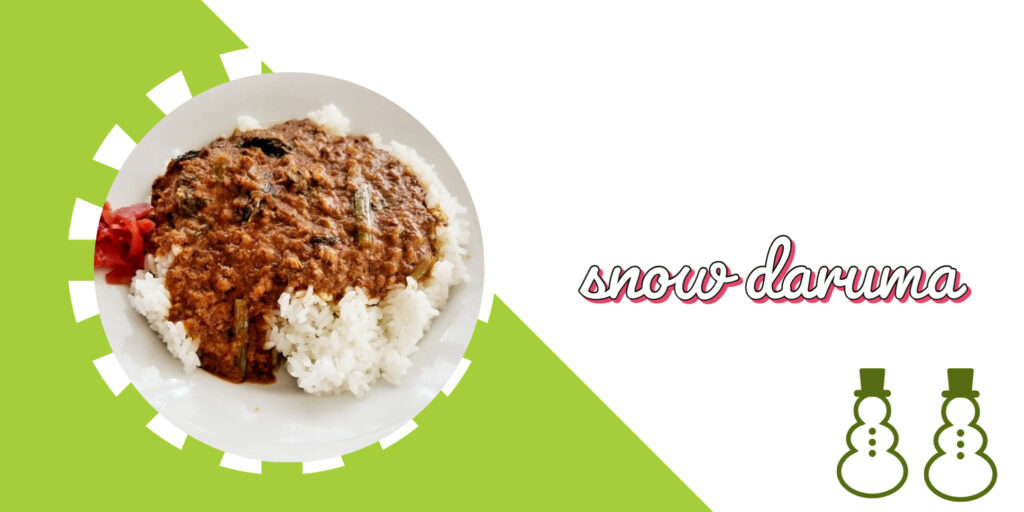 スノーダルマ食堂 SNOW DARUMA
Located next to the Orion course of Togari ski resort. Snow Daruma offers you the most popular options you might crave while skiing: Japanese curry and ramen.
Local flavor, good portions and reasonable prices.
🕥 OPEN 09:00 – 16:30 (winter season only)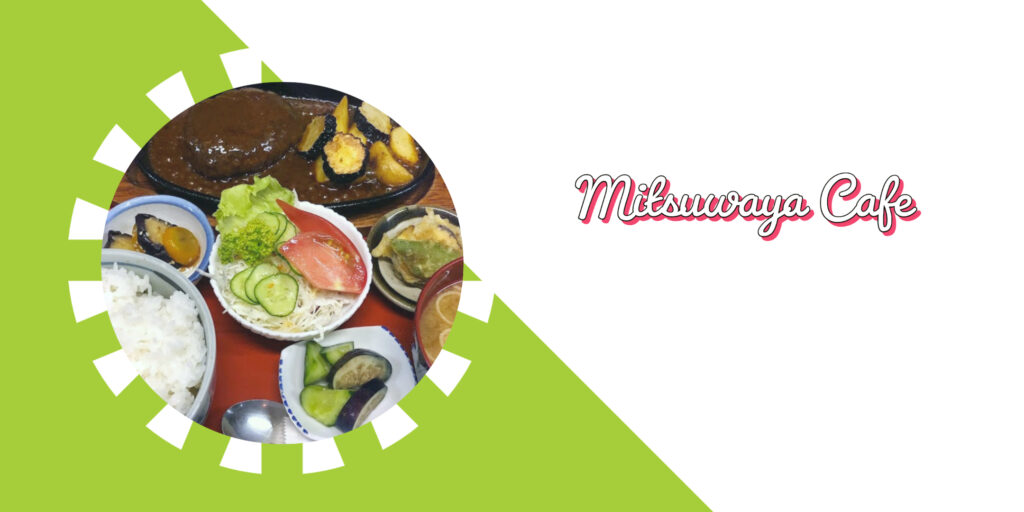 みつわや MITSUWAYA CAFE
Located near Togari-Nozawa train station, Mitsuwaya is a cafe restaurant that has been run by a warm and gentle old couple for around 40 years.
The set meals are big and reasonably priced. Our favorite dish is the hamburger steak; crisp outside and fluffy inside, with homemade demiglace sauce.
🕥 OPEN 10:00 – 20:00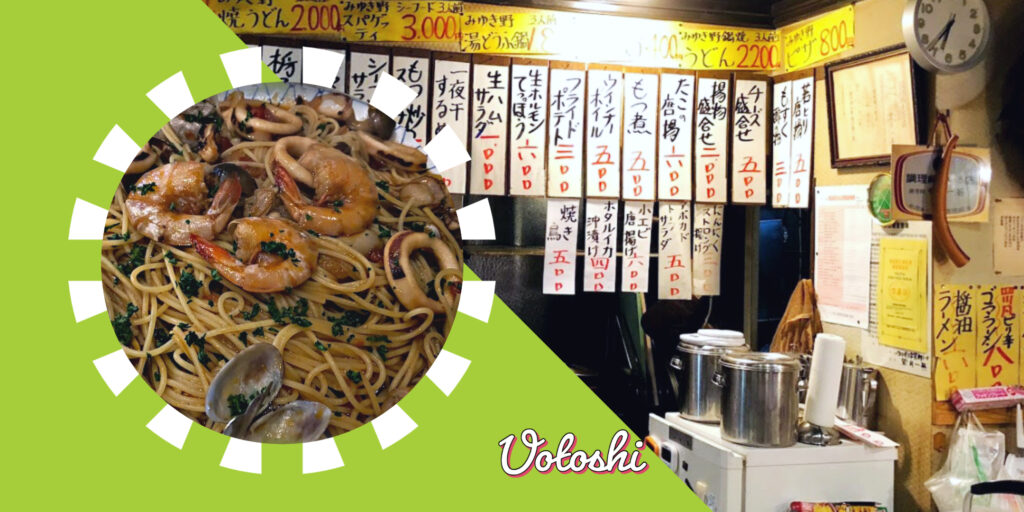 UOTOSHI 魚とし
Looking for an izakaya? You have to come here! Uotoshi is the place you come for the drink, and stay for the food and the chill atmosphere. And if you feel like singing, there's no need to leave your comfy seat… Yes! They have karaoke!
The menu includes sea food and a popular pick is the original creamy pasta served in generous portions. To finish the night, you have to try their spicy, salty ramen. So good!
We love the staff here. So friendly!
🕥 OPEN 18:00 – 23:00
📞 0269652038
💰 Cash only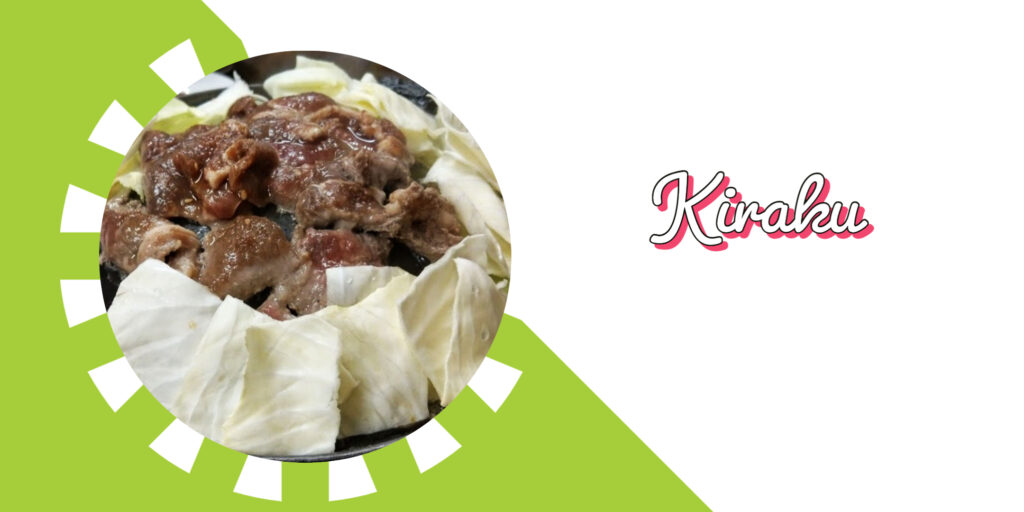 KIRAKU 喜楽
Cheap and good, Kiraku is a small and hearty Yakiniku restaurant run by a kind old lady
The menu is limited to just a few items done well, and the most popular option is Jingis Khan (a Hokkaido specialty), which is marinated lamb grilled on a slotted dome-shaped cast iron grill right in front of you. Dipped in the home made tare sauce, it is a little bit spicy and totally delicious!
To match with your favorite drink, check the fridge!
🕥 OPEN 17:00 – 20:30 Sunday 15:00 – 20:30
📞0269652053
💰 Cash only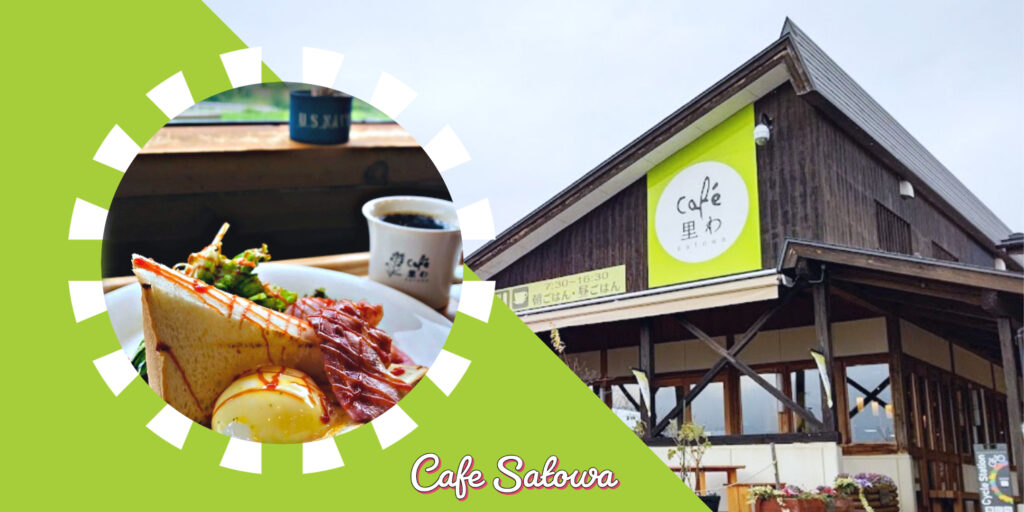 CAFE 里わ
Cosy restaurant cafe at the roadside station on route 117, serving delicious Western and Japanese dishes at an affordable price. They use local products and change the menu according to the season to offer you the freshest and most delicious food.
Great for breakfast and brunch, catch a seat next to the window and enjoy the green landscape in Spring or the stunning white mountains in Winter. They also have a wide variety of cakes from local bakeries as well as handmade souvenirs.
🕥 OPEN 9:00–17:00 Sat Sun 7:30–17:00 CLOSED Thursday
📞0269-62-1887
🥡 Take out available
💰 Cash and Card
🌐https://www.chikumagawa.net/