=
Vacation Rentals + Outdoor lifestyle + Tours and more!
Based in the deep snow country of Northern Nagano, MTN holidays mission is to bring you to the best that Madarao, Togari and Nozawa Onsen have to offer. We have created a cozy home-from-home for you to use as a base to explore the mountains, valleys, and lakes, and step into the wonderful Japanese countryside just 2 hours from Tokyo.
Vacation Rentals
Our 2 vacation rentals, Hunters Gate and Togari Cabin, are designed with your comfort in mind. Both have warm and inviting living spaces with pellet stoves and kitchens that cooks will love! Beds are warm and comfy. In winter you will find plenty of space to store your ski and snowboard gear, and in summer, you can take advantage of pleasant outdoor dining areas with rental BBQ equipment. Togari Cabin is fully electric, and fossil fuel free, and with your support, we are committed to Hunters Gate becoming fossil fuel free by 2025.
Ski School
We are the official providers of English language ski lessons at Togari Onsen Ski Resort. Whether it's your first day on the slopes, or you want to improve your skills, our licensed instructors will get you moving in style! We can also provide ski lessons and guiding services at Nozawa Onsen, Madarao or any of the mountains nearby. Our guides are local, and will be able to advise on the best mountain for you to visit each day based on terrain and weather conditions. Smiles guaranteed!
Eco-tours
If you want to experience the real Japan, and help local people and businesses flourish, while having the kind of experiences that aren't on anybody else's social media feed, then we can help! We believe that small-scale tourism that brings international guests directly in contact with the locals that have cared for this land for generations is the best way to help maintain and protect this precious landscape.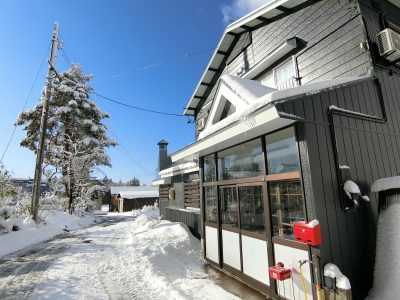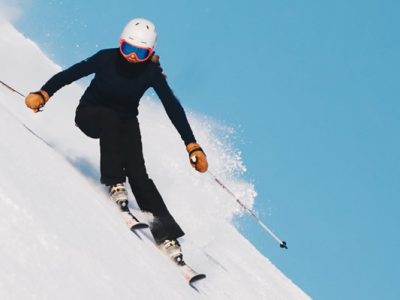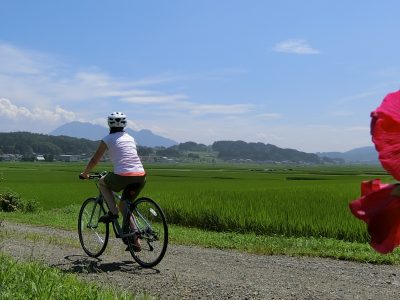 Just metres from Togari Ski Resort
Both properties, Hunters Gate and Togari Cabin, are based at Togari Onsen, one of Nagano's best kept secrets! You won't find crowds or lift lines here! The view from your windows will confirm how close Nozawa, Madarao and Kijimadaira ski resorts are, and a car rental or guided tour will get you to any of these resorts in next to no time. In fact there are 18 ski fields in a 1 hour radius, and countless hot springs to revive tired muscles after a hard day on the hill. It's the perfect spot for skiers and snowboarders to base themselves for the season!
Your one-stop spot for outdoor fun
We make the most of our direct access to the Shinetsu Trail, Japan's longest hiking course by offering guided tours to the 80km of well maintained forest hiking trails that run from Madarao all the way to Mount Naeba.  Kayaking and SUP can be found at the gorgeous heart-shaped Hokuryuko Lake, and of course, rafting on the Chikuma River. Discover another of the region's best kept secrets, the long history and mystic Shugendo traditions of Kosuge Village. Explore themes of death and rebirth as you climb to a hidden mountain shrine with a real Yamabushi mountain priest, and our experienced translator. iiyama is now fast becoming a bicycle mecca, with well maintained bicycles for rent and clearly marked cycling routes all through the valley. There is so much to do here!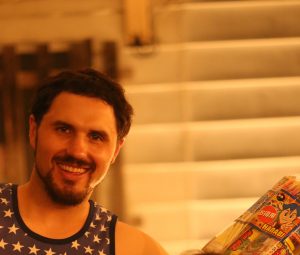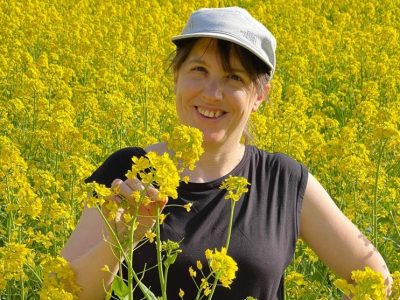 Your hosts
Sam from the United States and Lianne from the United Kingdom initially moved to Iiyama City in order to start practicing a "self-sufficient" lifestyle. The two came to Japan as English teachers, but they love skiing and snowboarding and longed to live in snow country.
There aren't many places in the world where an average person can afford to live right at a ski resort and have a plot of land, also with convenient high-speed links to an international airport via Shinkansen. The couple realised that life in iiyama City would be a dream come true for them, and bought the small rundown cottage at Togari Onsen Ski Resort that would eventually become Togari Cabin. "While renovating our own house, we grew vegetables and kept goats and chickens."
As time went on, Sam and Lianne were able to create good connections with their neighbours and enjoyed participating in local events. They were confused as to why the Togari village that they loved so much seemed overlooked by international tourists. So when approached by a neighbour to buy his family's old ryokan, they realised they had a chance to help in the regeneration of this pretty little ski town, and share the charms of Nozawa, Togari and Madarao with people from around the world, and so began Hunters Gate.
"We are eternally grateful for the support and encouragement of our community in Togari Onsen, and can't wait to welcome you here!"